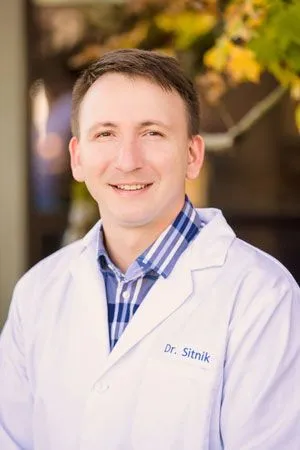 Igor Sitnik, DMD
Salem OR Dentist
Sitnik Dental

Dr. Igor Sitnik was born in Psebai, Russia. In 1995 his parents moved their family from this small town to Salem, Oregon so they would have more opportunities for a better life. Dr. Sitnik attended McKay High School and Chemeketa Community College prior to beginning his education into the field of dentistry.
Dr. Sitnik has been in the dental profession for over nine years. His professional education started at the Oregon Institute of Technology where he earned his Bachelor of Science Degree in Dental Hygiene. Dr. Sitnik continued his education at Portland State University, after which he was accepted to Oregon Health and Sciences University, his first choice of dental schools, where he earned his doctorate of medicine in dentistry (DMD).
Working as a dental hygienist, to help pay for his education, was influential in giving the doctor insight into a more complete field of dentistry. By way of many years of learning, the doctor went from cleaning beautiful smiles to creating them, something that has always been a form of art to him. He is a strong advocate of preventative dentistry and believes patient education is the backbone to preventing tooth decay.
Dr. Sitnik enjoys expanding his base of knowledge in all aspects of dentistry. Recently the doctor completed comprehensive dental implant courses through the American Academy of Implant Dentistry (AAID), allowing him to complete dental implants from start to finish. He is currently a member of the American Dental Association, Oregon Dental Association, American Academy of Implant Dentistry, Academy of General Dentistry, and the Marion & Polk County Dental Society.
When not working, Dr. Sitnik treasures time spent with his family. He is happily married with two beautiful daughters. Together with his wife, Lera, they appreciate the many activities Oregon has to offer, especially camping, hiking, fishing, and running.
Dr. Sitnik enjoys the opportunity his dental practice has given him to develop many lasting friendships with his regular patients and looks forward to meeting new smiles.