Cosmetic Dentistry Salem, OR
When you're happy with your smile, you're able to greet the world confidently, both personally and professionally. Concerns about your smile can undermine that confidence. If you'd like to correct imperfections in your smile, cosmetic dentistry from Sitnik Dental can transform your look and your outlook with innovative treatments designed to create the smile you've always wanted.
Some of the reasons people are unhappy with their smiles include stained teeth, gaps, irregular gum lines, damaged or missing teeth, and misalignments. Dr. Igor Sitnik, DMD, your Salem, OR dentist, can help you achieve a healthy, aesthetically pleasing smile with a range of cosmetic treatment options. Read on to learn more about some of the cosmetic dentistry treatments we offer or call our office today at (503) 363-5962 to schedule a cosmetic consultation with Dr. Sitnik.


Cosmetic Dental Services
Bonding
In this procedure, composite resin is shaped and bonded to the tooth's surface to repair minor chips and cracks, cover discolored enamel, close small gaps between teeth, reshape undersized, crooked, or misshapen teeth, and rebuild areas where enamel erosion has taken place. Bonding is convenient, cost-effective, and minimally invasive. Learn more about our dental bonding services.


Crowns
Crowns cover the entire tooth above the gumline. Porcelain and ceramic crowns look like natural teeth and can be used to restore the appearance of teeth with more serious fractures, cracks, and shape irregularities. Crowns can also be used as part of a dental bridge to replace missing teeth. Learn more about dental crowns and bridges.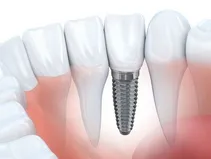 Dental Implants
Implants are natural-looking and functional replacements for lost teeth. A screw-like post is implanted in the jawbone, where it fuses with the bone over several months to act as the tooth's "root." Once the post is secure in the jaw, a replacement tooth, usually in the form of a crown, is fixed in place. Implants do more than make your smile complete again; they help prevent the jawbone underneath the lost tooth from shrinking and stop nearby teeth from shifting out of place. Learn more about our implant dentistry services.

Teeth Whitening
Surface staining can be caused by external factors such as diet, tobacco use, or inadequate oral hygiene. Brighten your smile with teeth whitening treatments from your Salem dentist's office. Professional whitening is generally faster, more effective, and longer-lasting than at-home products. If deep stains make whitening treatments impractical, you might consider bonding or veneers. Learn more about professional teeth whitening.


Tooth Contouring
Small chips, minor size and shape irregularities, slight overlaps—teeth which need minimal cosmetic restoration can benefit from tooth contouring. Your Salem dentist will remove a small amount of enamel to reshape tooth and then polish it for a smooth, even appearance. Contouring is cost-effective and generally requires no anesthetic but cannot be used to treat more seriously damaged or misaligned teeth.


Veneers
A dental veneer is a thin, translucent, durable porcelain shell which is custom-made to cover the front of a damaged tooth. Like bonding, veneers can restore the appearance of teeth with chips, cracks, and stains, can close small gaps between the teeth, and can reshape misshapen or slightly misaligned teeth. Learn more about our veneers services.


Unhappy with your smile? Let us show you what cosmetic dentistry can do for you! Call Sitnik Dental in Salem, OR today at (503) 363-5962 to book a cosmetic consultation with Dr. Sitnik.