My Blog
Posts for tag: Teeth Whitening
By Sitnik Dental
August 08, 2019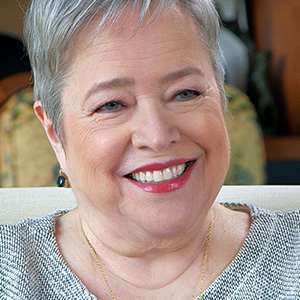 Academy Award-winning actress Kathy Bates knows how important it is to present your best face to the world — and one of the most important features of that face is a beaming smile. But there came a point when she noticed something was a little off. "I've always had good teeth, but it seemed to me as I was getting older that they weren't looking as good," Kathy explained in a recent interview with Dear Doctor magazine.
That's when she decided it was time to take action. Kathy had orthodontic treatment when she was in her fifties, and she keeps her smile bright with tooth whitening treatments. She uses a kit provided by her dentist with a safe, effective whitening solution.
Of course, a bright, healthy smile looks great anywhere — whether you're on the red carpet or "off the grid." And you don't have to be a Hollywood star to have professional whitening treatments. In fact, teeth whitening is one of the most popular and affordable cosmetic treatments modern dentistry offers.
The basic options for professional teeth whitening include in-office bleaching or take-home kits. Both types of dentist-supervised treatments offer a safe and effective means of getting a brighter smile; the main difference is how long they take to produce results. A single one-hour treatment in the office can make your teeth up to ten shades lighter — a big difference! To get that same lightening with at-home trays, it would take several days. On the plus side, the take-home kit is less expensive, and can achieve the same results in a bit more time.
It's important to note that not all teeth can be whitened with these treatments. Some teeth have intrinsic (internal) stains that aren't affected by external agents like bleaches. Also, teeth that have been restored (with bonding or veneers, for example) generally won't change color. And you can't necessarily whiten your teeth to any degree: Every tooth has a maximum whiteness, and adding more bleach won't lighten it beyond that level. Most people, however, find that teeth whitening treatments produce noticeable and pleasing results.
What about those off-the-shelf kits or in-the-mall kiosks? They might work… or they might not. But one thing's for sure: Without a dentist's supervision, you're on your own. That's the main reason why you should go with a pro if you're considering teeth whitening. We not only ensure that your treatment is safe — we can also give you a realistic idea of what results to expect, and we will make sure that other dental problems aren't keeping you from having a great-looking smile.
How often does Kathy Bates see her dentist for a checkup and cleaning? "I go about every four months," she noted. "I'm pretty careful about it." And if you've seen her smile, you can tell that it pays off. If you would like more information about teeth whitening, please contact us or schedule an appointment. You can learn more in the Dear Doctor magazine articles "Important Teeth Whitening Questions Answered" and "Teeth Whitening."
By Sitnik Dental
October 26, 2018
Getting your teeth whitened professionally can be a life-changing experience. Whiter teeth are associated with youth, health, vitality and even your level of professionalism in the workplace. Your dentist have the ability to improve the appearance of your teeth by up to eight shades in one short visit. Explore the following FAQs about teeth whitening so that you can decide if this cosmetic treatment is right for you.


Why is Professional Teeth Whitening the Best Option?
Over the counter whitening products are convenient but problematic for a number of reasons. For one, they take a long time to show results (sometimes weeks or months), if they ever do. Whitening kits that come with trays are ill-fitting and uncomfortable to wear for extended periods of time. When you have your teeth whitened professionally, the treatment is finished within one day, in one appointment. There's no need to disrupt your schedule by wearing a tray every day and little to no concerns about irritation of the gums since the procedure will be handled by a skilled dentist.

Who Is a Candidate?
Any patient with generally good dental health may be a candidate for professional teeth whitening. Keep in mind that some patients aren't eligible for this treatment because they have stains that can't be cleared with whitening gels. This is the case when the stain is "intrinsic," which means the discoloration is at the inner layer of the tooth. You dentist can tell you if your teeth can be successfully whitened at your initial consultation.

What Will Happen at the Whitening Appointment?
Set aside at least an hour of your time for your teeth whitening appointment. You'll sit back in your chair as the dentist inserts a device to keep your lips separate from your teeth then applies the gel. You'll wait for anywhere between 60-90 minutes until the whitening effect has set in. Many patients choose to have this treatment performed on a lunch hour.

How Long Will the Teeth Stay White?
You can expect to enjoy your new whiter smile for about one to two years or longer. The length of time your smile will last depends on you and your dental habits. If you go back to eating the same foods and drinking the same beverages that stained your teeth in the past, the problem is likely to return more quickly. Use a straw, brush regularly and see your dentist for cleanings twice per year.
Contact Your Dentist

You will be happy with the way that your smile looks after going to your dentist for a teeth whitening treatment. If you have more questions, call for an appointment today.
By Sitnik Dental
January 04, 2017
Cosmetic dentistry can be an amazing way to make over your smile. Learn more about the procedures available.
With the welcoming of the New Year come a lot of resolutions. Perhaps you are considering ways to reinvent your appearance. While some
people may turn to the gym or a hair stylist to get a new and improved them, perhaps you want to make changes to one of the most noticeable and prominent features: your smile. Our Salem, OR dentist, Dr. Igor Sitnik, can help give you that beautiful smile with cosmetic dentistry.
Here are some of the amazing cosmetic services we offer here in Salem:
Teeth Whitening: A quick and easy way to brighten your smile, remove stains and get smiles several shades whiter in under one hour. Through the use of strong whitening gels and a dental laser we can get teeth up to eight shades whiter. We can also provide you with an at-home whitening kit if you prefer to whiten your smile yourself.
Dental Bonding: A tooth-colored resin is applied to the tooth to cover small imperfections and to strengthen teeth. Cosmetic bonding doesn't require anesthesia or drilling and is a completely noninvasive way to improve the shape and appearance of your smile.
Porcelain Veneers: These thin tooth-colored shells are bonded to the front of the teeth to hide common dental issues like chips, cracks, discolorations and small gaps between teeth. Some tooth enamel removal is required but this can usually be done without anesthesia.
Dental Implants: Implants are small metal posts that are surgically placed into the jawbone to replace missing tooth roots. These implants naturally fuse together with the jawbone to provide a strong, long-term foundation from which to support a dental crown or other restoration.
Clear Orthodontics: If you are a teen or adult who is considering straightening your smile it might be time to consider a treatment option like Invisalign, where clear retainer-like aligners are custom-made to fit over your teeth to shift them into the proper position without other people noticing.
If you want a beautiful smile that you will admire for years to come then it's time to turn to Sitnik Dental in Salem, OR. We are dedicated to giving you a beautiful smile even if you weren't born with it. Call us today to schedule your consultation.